Welcome to the Child of Light Wiki
Child of Light is a 2D RPG / Platformer game developed by Ubisoft. The game was released in Europe and the U.S. on April 30, 2014 and in Japan on May 1, 2014 on PS3, PS4, Xbox 360, Xbox One, Wii U and PC.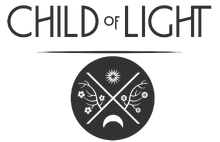 Child of Light is a 2D Adventure/RPG/Puzzle game developed and published by Ubisoft. The game follows a sick child named Aurora, who finds her soul transported to the magical kingdom of Lemuria. She is given the task to find sources of light, and to defeat the evil Black Queen who inhibits the world.She is accompanied by Igniculus, a helpful ball of light that serves as a companion. The game supports two players, and featured a turn-based combat and an expansive skill tree. Read More

Child of Light
Excellence in Art
Create blog post
http://ubiart-framework.wikia.com/wiki/UbiArt_Framework_Wikia

Read more >

Child of Light is a digital download, 2D side-scrolling role-playing game inspired by the art style of Studio Ghibli. Take control of Aurora as she embarks on a quest to retreive the sun, moon, and stars from the evil Queen of the Night. The game features an active battle system with RPG elements. …

Read more >
See more >
What did you most likely enjoyed about, Child of Light?(Sorry, but there's no, 'all the above'. :)
Ad blocker interference detected!
Wikia is a free-to-use site that makes money from advertising. We have a modified experience for viewers using ad blockers

Wikia is not accessible if you've made further modifications. Remove the custom ad blocker rule(s) and the page will load as expected.