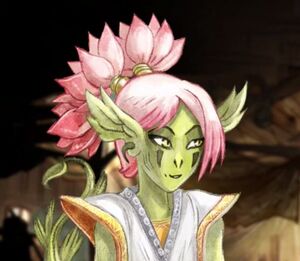 Genovefa, better known as Gen, is a character that appears in Child of Light. She is able to join Aurora in her quest through Lemuria after the ogre that terrorized her village is defeated.
"Shhh. Be careful. You'll wake the ogre."
- Gen upon meeting Aurora
Biography
Edit
Genovefa is a young girl with great spellcasting skills that far exceed anyone around her age group.
Before joining Aurora on her quest to defeat the Queen of the Night, Gen had lived in a small village in the Flooded Lands of Lemuria with Drust after her parents and most of the villagers were taken by a giant ogre that frequently terrorized the village. Although the relationship between Gen and Drust is not explicitly addressed, he is presumed to be her grandfather.
By the time Gen had met Aurora, she and Drust were the only remaining inhabitants left in the village.
During combat, she is able to cast spells to either advance allies or bump enemies back on the timeline. She also has resistance to the Water element without the need of a Sapphire.
Her main upgradeable skills are:
Defend: Reduces damage from attacks and increases speed on the timeline for the following turn.
Battle Cry: Passive skill, speed on the timeline increases whenever health falls below 30%.
Jump Forward Jig: Spell which lets an ally start later on the timeline for a few turns.
Backward Slam: Attack that pushes enemies back on the timeline.
Slow Strike: Attack which reduces the speed of a creature for a few turns.
Paralyze: Freezes one enemy (or more, upon levelling up the skill) on the timeline.