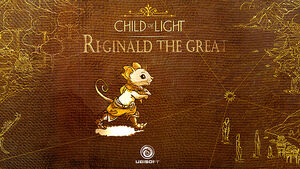 Reginald the Great is a 19-page free downloadable book created by Ubisoft that can be read in PDF format here. Taking place two years after the events of Child of Light, the book follows the adventures of the Bolmus Reginald, son of Robert and Margaret.
At the time of the book's release in 2015, illustrator Serge Meirinho stated that he was currently involved in a new book in the Lemuria universe, and creative director Patrick Plourde explained that they had two books already written and a third planned,[1] though as of 2018 no further media related to Child of Light has been released aside from a teased sequel.
Unlike the rest of his Bolmus Populi brethren, Reginald has little interest in the thrill of buying and selling, and instead likes to go on imaginary adventures; chasing Kategida, protecting his family from raging storms, and rescuing children from bandits. Due to his adventurous spirit, Reginald is disliked by the rest of the Populi.
One day, while exploring a cave, Reginald comes across Roberta, a young girl who also enjoys going on adventures. The two become good friends. Reginald learns that she is an orphan and invites her to come home with him.
Reception
Edit
The book has a rating of 4.36/5 on Goodreads.[2]
Unlike Child of Light, the book does not utilize a rhyming scheme.
References
Edit